https://www.rt.com/uk/369250-arms-firm-shares-soar/
British arms companies bucked the downward sales trend in 2015, amid signs there could soon be a major upsurge in demand for military equipment.
The new figures were compiled by the Stockholm International Peace Research Institute (SIPRI) for sales made in 2015.
Alongside other European firms to enjoy a bumper year, British arms giants saw a 2.8 percent rise in 2015. This compares with a slight dip in 2013 and 2014.
Read more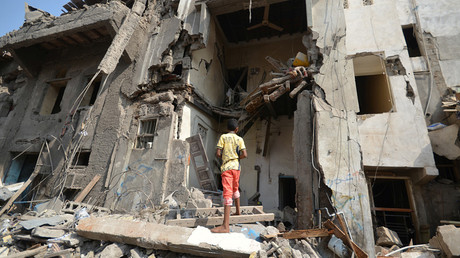 BAE Systems sold $25.5 billion worth of weapons. This was partly attributed to the sale of Typhoon jets to the UK's close Middle East ally Saudi Arabia, which is currently conducting an aerial bombing campaign over Yemen.
BAE occupies third place in the profit stakes, with US firms Lockheed Martin and Boeing first and second respectively.
Speaking to the Guardian, Andre Fleurant, SIPRI's head of arms and military expenditure, said: "
Lockheed Martin remains the largest arms producer in the world.
"
However, US companies' arms sales are constrained by caps on US military spending, delays in deliveries of major weapon systems and the strength of the US dollar, which has negatively affected export sales.
"
The limits on US sales were not present in European countries, he said.
The aviation branch of French firm Dassault also made solid profits from selling to authoritarian regimes such as Egypt and Qatar, Fleurant said. The top six French companies made more than $21 billion between them.
German firms also got in on the action. Three that found their way into the top 100 saw a 7.4 percent rise over the year.
Shares in arms firms surged in value as soon as news broke of Donald Trump's victory in the US presidential election.
Shares in BAE and defense-electronics firm Thales increased by 3 percent, the Wall Street Journal reported at the time.